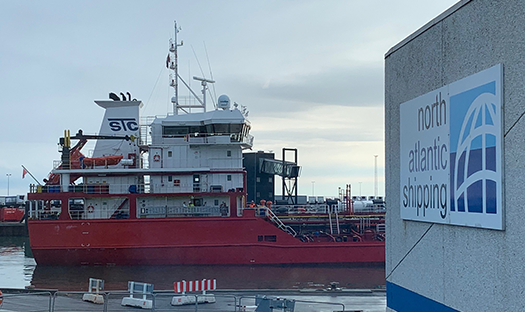 North Atlantic Shipping works with shipping and dispatch. They are located at the Port of Hirtshals, which is hub for transports to and from the countries in the whole north Atlantic. Furthermore, North Atlantic Shipping is agent for Nor Lines, one of the largest transport companies on the coast of Norway. At North Atlantic Shipping the staff has more than 40 years of experience in shipping and dispatch and offers the following:
– Dispatch/Customs papers
Import and export including EU clearances
Customs clearance for Danish customers, EU customers, inward processing traffic and End-Use
MIO (temporary warehouse) and bonded warehouse
Health Cert.
E-export
Report to Intrastat
– Ships clearances
Of all ships, which call at Port of Hirtshals and all ports in North Jutland
Crew Change arranged via Aalborg Airport
Possibility for pick-up of crew members offshore Hirtshals
– Veterinary documents
– IUU Catch Cert. / Re Export Cert.
– Chartering – Discharging / Loading of ships
– Warehouse service chilled/frozen/dry cargo and bonded warehouse
– Transportation world wide
– Agent for Nor Lines
Traffic to and from Norway.
Direct call at ports from the Oslo fiord in south up to Hammerfest in north, with reloading for ports right up to Kirkenes
Furthermore, North Atlantic Shipping has wide experience with handling of project loads and offers assistance round the clock all the year round.
Herluf Trollesvej 1,
9850 Hirtshals
Phone: +45 98 94 22 12
Mail: jsp@northatlanticshipping.dk